​
Travel Agents Association of Kashmir (TAAK) has taken strong note of the harassment and problems being faced by the locals, leisure, adventure, and tourists in view of the security arrangements for the Amarnath Yatra.
In a statement to news agency Kashmir News Trust, TAAK President Farooq Ahmed Kuthoo said many tourists have got stuck on highways due to severe restrictions on the movement of non-yatri tourists.
Not only have such restrictions put the general tourists to a lot of inconveniences but the travel agents outside JK have stopped promoting Kashmir till mid-August bringing down the tourist influx abruptly," said Khuthoo.
Khuthoo said preferential treatment to Amarnath Yatris is affecting Kashmir tourism badly.
"Kashmiris have welcomed yatris and other tourists alike for ages and no problem was faced by them. This year, the security arrangements have only compounded the problems and caused immense loss to leisure, adventure, and other tourism segments," said TAAK President.
TAAK has appealed to the LG Manoj Sinha to look into it so that non-yatri tourists don't suffer. (KNT)
Enjoy Your Honeymoon In Kashmir

Starting From Rs. 28500.00

* Hotel & Houseboat Accommodation

* Complete Sightseeing (Srinagar, Gulmarg, Pahalgam, etc)

* Meals (Breakfast & Dinner),

* One-night Decoration, Cake, Candlelight Dinner, Milk, etc

* Dedicated Vehicle (Inclusive of Toll, Parking, Driver Allowance)

For Booking / Information Call : +91 88033 24 365 / 97960 24 365 Or Mail at Sales@KashmirTravels.in

https://kashmirtravels.in/…/honeymoon-in-kashmir-04…/
About Amarnath Yatra
Amarnath is one of the most famous pilgrimage destinations of India and is organized every year by the government of Jammu and Kashmir online train tickets. The shrine has an important part to play in Hindu culture and is considered to be one of the holiest shrines. The main cave is situated at a height of 12,756 ft from the sea level and remains covered with snow most of the year except for a short period of time in summer. Every year 'Amarnath Yatra' is marked by 'Pratham Pujan' which is said to summon the blessings of Baba Amarnath and attracts a large number of devotees from all over the world.
The Legend and the Belief of Amarnath Yatra
As per the beliefs, the Amarnath Cave is where God Shiva was narrating Amar Katha to Goddess Parvati and wanted to keep it a secret. Therefore, he left all his companions behind. His riding friend – Nandi, the bull – was left at Pahalgam, the moon atop his head at Chandanwari, the snake around his neck at Lake Sheshnag, the 5 basic essentials of life that he carried at Panchtarini and even his son- Lord Ganesha himself- at Mahaguna top.
When he finished the narration, he realized that Goddess Parvati has actually fallen asleep and a parrot was listening all this while. This infuriated the Lord and he threw his Trishul to kill the parrot. To save himself, the parrot entered the womb of the saint's wife. The baby was later born to become a famous sage.
Number of devotees allowed per day: 1500 (7500 each on two decided routes)
Age limit: 14 to 74 years
How to Reach Amarnath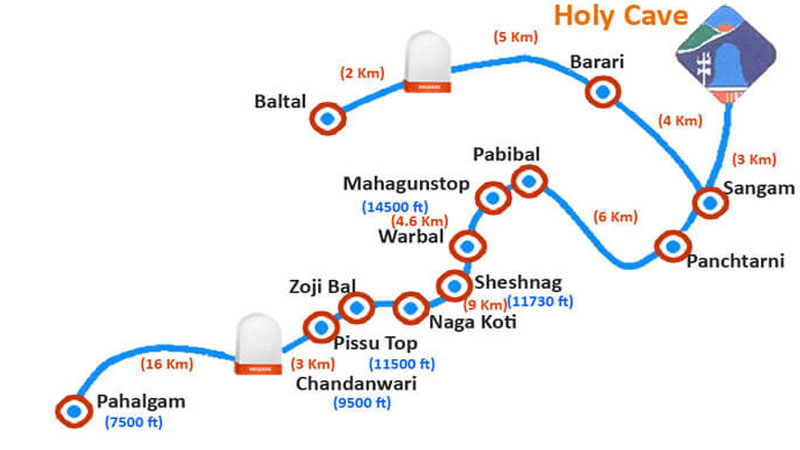 There are two Amarnath Yatra routes that pilgrims can take to travel Amarnath Cave and both these routes are well connected from all the major cities for easy connectivity. To start from Srinagar or Pahalgam, one will have to trek to a height of more than 14,000 feet. Hence, being physically fit and mentally prepared for the journey is a must. The two routes to Amarnath Yatra are:
Yatra from Baltal to Amarnath Cave:
It is the most popular and shortest route to reach the cave. The region of Baltal is 14 km from the Cave and allows people to only walk. Ponies are not allowed. However, one can be carried on 'Dandies'. The trek via Baltal usually takes 1-2 days to complete. This route is advised to be taken by the people who are young, healthy and looking for some adventure amidst the religious trip.
Yatra from Pahalgam to Amarnath Cave:
This is the most preferable route and is around 47 km from the main Amarnath Cave Site. The first step of Yatra starts at Chandanwari which is 16 km from the Pahalgam base camp and is at 9,500 feet. Then there is Pissu top, which is 3 km away and located at 11,000 ft, Shesnag – 9 km from Pissu top at 11,730 ft, followed by the Panjtarni-12 km ahead and located at 12,000 feet. Pilgrims who cannot walk this far can opt for Helicopter services easily available for it. The trek usually takes 3-5 days one way to complete.
Requirements for Amarnath Yatra
For people planning for Amarnath Yatra, make sure you complete all the formalities. It is imperative to register for the Amarnath Yatra and to get registered, make sure you fulfill the below requirements.
1. All pilgrims/travellers planning to avail helicopter services for Amarnath Yatra are required to obtain a medical fitness certificate from a doctor authorized by SASB (Amarnath Shrine Board), which certifies your fitness for the physically tough journey.
2. Other Important documents you must have during the Yatra include Voter ID, Driving License, and Passport etc for your identity.
Facilities at Shri Amarnath Yatra
Best possible facilities are made available for the devotees with the efforts of the Indian Army, Central Government and State Government Police Forces along with NGOs and government provided services. There are stalls and resting camps (pandals) with a continuous supply of food. The successful organization of the Yatra is majorly done by Shri Amarnath Yatra trust which provides facilities like power supply, telecommunication, firewood etc. Helicopter facilities from base camp to Panjtarni (6 km from the cave) are also available from various private operators.
Amarnath Weather
The climate in Amarnath fluctuates quite frequently. Looking at the weather in Amarnath, the temperature will range between 9-34 degrees Celsius during the yatra.