In a major jolt to ruling Peoples' Democratic Party (PDP), senior leader from Jammu and grandson of last Maharaja of the State Hari Singh, Vikramaditya Singh on Sunday resigned from the party and the membership of Jammu and Kashmir Legislative Council.
"I have sent my resignation to Chief Minister Mehbooba Mufti. I am not a politician but I wanted to do something for the people of the State because former Chief Minister Mufti Mohammed Sayeed wanted me to do so," Singh told reporters in Jammu, the winter capital of Jammu and Kashmir.
Singh, the grandson of last Dogra ruler Maharaja Hari Singh and son of Jammu and Kashmir's former Sadr-e-Riyasat and senior Congress leader Karan Singh joined the PDP in August 2014 ahead of the State assembly elections in the State.
He said nobody is happy with the State government in Jammu, Kashmir and Ladakh.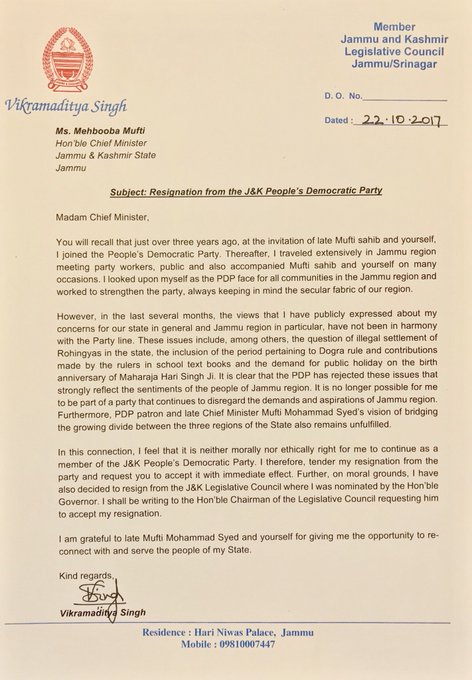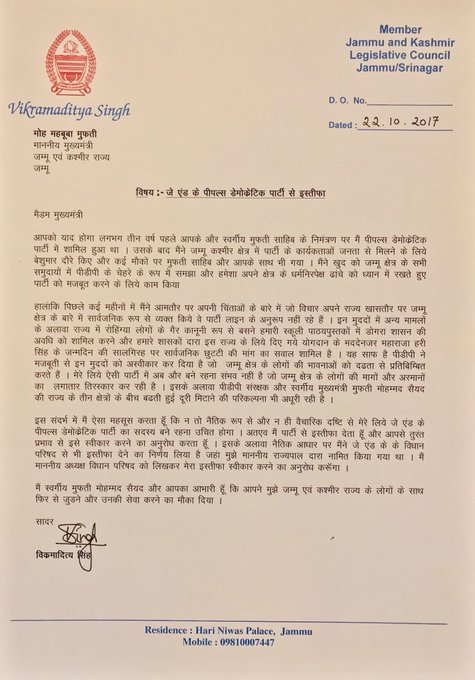 "I think nobody is happy with it. There is a dire need to maintain regional identities which is being compromised and it has led to resentment among people of all the regions," he said.
Singh said he had joined PDP on the invitation of then PDP patron Mufti Mohammad Sayeed.
"I looked upon myself as the PDP face for all communities in Jammu region and worked to strengthen the party. However, in last several months, the views that have publicly expressed about my concerns for our state in general and Jammu region in particular, have not been in harmony with the party line," Singh said in his resignation to PDP chief and Jammu and Kashmir Chief Minister Mehbooba Mufti.
He said these issues include illegal settlement of Rohingyas, inclusion of the period pertaining to Dogra rule and contributions made by the Dogra rulers in school text books and demand for public holiday on birth anniversary of Maharaja Hari Singh.
Despite strong pressure from ally BJP and Jammu-based parties, traders and civil society members, the Chief Minister had refused to announce the public holiday on Maharaja Hari Singh's birthday on September 23.
"It is clear that the PDP rejected these issues that strongly reflect the sentiments of people of Jammu region. It is no longer possible for me to be part of a party that continues to disregard the demands and aspirations of Jammu region," Singh said adding, "Mufti Sayeed's vision of bridging the growing divide between the three regions of the State also remains unfulfilled"
"I feel it is neither morally nor ethically right for me to continue as a member of PDP. I, therefore, tender my resignation from the party and request you to accept it with immediate effect," he said.
He asserted that regional identities should be respected and maintained.
Singh said announced that he has decided to resign from Jammu and Kashmir Legislative Council.
"I would write to the Legislative Council chairman requesting him to accept my resignation," he said.
Singh's quitting PDP will be a major jolt to the party as he was the face of the PDP in Jammu region.
Singh's younger brother Ajat Shatru Singh is State BJP leader and also an MLC.