'Intrusions by PLA troops in the Ladakh sector are more in number than elsewhere and this region is now likely to remain an area of enhanced Chinese interest,' warns China expert Jayadeva Ranade.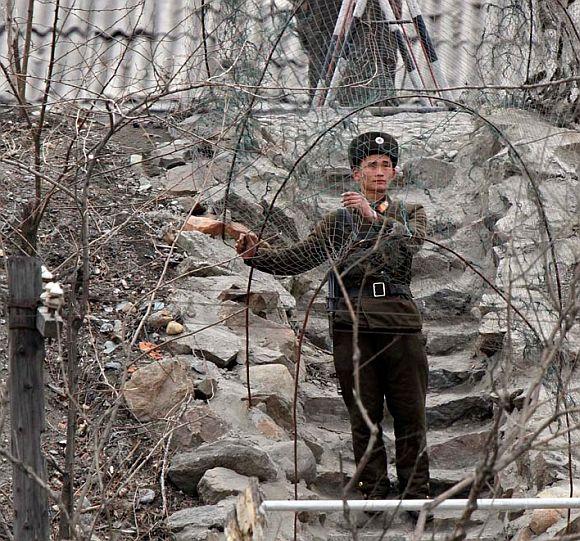 The latest standoff between troops of China's People's Liberation Army and Indian paramilitary and military personnel in the mountainous, high-altitude area near Daulet Beg Oldi — which decades ago was a trading post along the southern portion of the Old Silk Route — invites attention to China's intentions in the region.
A flag meeting on September 15, 2015 between local commanders comprising a PLA senior colonel (equivalent to a brigadier) and a major general and brigadier from the Indian side has, however, temporarily defused the situation.
There are immediate military implications of China's actions. In addition to upgrading their capacity for surveillance of Indian troop movements and activities, the erection of a tower additionally gives a permanence to Chinese presence in the area.
Importantly, it helps secure the Karakoram Highway which has become strategically more important for China and Pakistan as work to upgrade the highway continues and plans to build a railway progress. It is also intended to give an edge in the area close to India's vital supply routes to the Karakoram and Siachen.
China has additionally recently initiated plans to build a high-speed rail network for military use in the Lanzhou Military Region, whose jurisdiction includes the areas of Daulet Beg Oldi, the Depsang Plains and Chumar.
Intrusions by PLA troops in the Ladakh sector are more in number than elsewhere and this region is now likely to remain an area of enhanced Chinese interest.
This follows Chinese President Xi Jinping's visit in April to Pakistan and announcement of the China-Pakistan Economic Corridor publicising China's decision to build numerous military and civil infrastructure projects in this general area, which includes Pakistan occupied Kashmir and the Shaksgam Valley that was illegally ceded by Pakistan to China.
Safeguarding Chinese investments will be a priority for Beijing and while Pakistan has announced that it will establish a special security force to ensure the safety of these projects, China had already way back in 2010 indicated that it envisaged a possibility that it would have to deploy its Special Forces in Pakistan's northern areas to protect its investments.
Pertinent also are the clear statements repeatedly emanating from the Chinese Communist Party leadership in Beijing, after the Sixth Tibet Work Forum held in late August 2015, warning military, party and government cadres to be prepared for 'a protracted struggle' against 'separatist' elements in Tibet.
There are other indications, including in China's official media, of the increased attention being paid to military preparedness in Tibet. Officers with experience in Tibet are being appointed to key positions in the headquarters of the Lanzhou and Chengdu Military Regions, which exercise operational jurisdiction in areas immediately across the borders with India.
Also included in the latest round of promotions to the PLA's highest rank of general was the commander of the Lanzhou Military Region within whose jurisdiction are the areas of Daulet Beg Oldi, the Depsang Plains and Chumar.
General Liu Yuejun is a battle veteran and 'princeling' close to Chinese President Xi Jinping as well as a member of the 16th, 17th and now 18th Central Committees of the Chinese Communist Party. He is assessed to be on the track for further promotion.
General Liu was, incidentally, commander of the Lanzhou MR during the intrusions by PLA troops in the Depsang Plains and the Chumar area in Ladakh in April 2013 and September 2014 respectively.
These two intrusions were qualitatively different from those earlier and occurred when Li Keqiang and Xi Jinping were both on their first official visits to India as premier and president.
China is also enhancing its military presence and preparedness in Tibet. As it builds additional airfields in and around Tibet, its official media has disclosed in recent months the almost year-round presence of J-10, J-11 and SU-27 aircraft in the Tibet region on either deployment or for exercises.
These reports claimed that 32 J-10 fighter aircraft were positioned for the first time in Tibet at the airfields in Lhasa and Hoping through the winter (November 20 to December 25, 2014) and that Chinese fighter aircraft flew more than 1,460 sorties last year.
An analysis of the military exercises conducted by the PLA in the last two years, except for the recent major exercises, is revealing. It suggests that the number of exercises reported to have been conducted by the Lanzhou MR slightly exceeded those by the Chengdu MR's Tibet Military District.
Especially noticeable during the military activities and exercises held since 2013 has been the use of People's Liberation Army Air Force (PLAAF) aircraft and helicopters.
From August 2014, PLAAF aircraft, including J-11 and SU-27 aircraft of the Lanzhou MR, have been conducting 'combat confrontation' exercises including in 'low meteorological conditions' and a regiment of J-11 aircraft of the PLAAF commenced night combat training in Tibet on August 9, 2015.
Helicopters have also been noticed for the first time being used for regularly patrolling the borders across the Ladakh sector in Lanzhou MR's Ali Military Sub District since November 2013.
Other reports state that regiments of the Second Artillery deployed in the Tibetan Plateau conduct regular training and 'live-fire' exercises under conditions of 'informatisation.' On July 28, 2015 a Regiment of the Second Artillery conducted a live-firing exercise with 'new artillery guns' at a location in the Tibet Plateau and at heights between 3,700 metres and 4,800 metres.
The troops 'prepared an environment for actual war situations.' The PLA General Logistics Department also held a materials and POLs supply drill codenamed 'Supply Action-2015' in the Tibet Autonomous Region on August 8, 2015.
As China increases its military presence and preparedness in Tibet, India should expect an increased frequency, including of possibly more aggressive, intrusions by PLA troops in the Ladakh sector.
While China's military presence in Tibet and activities in the Ladakh sector undoubtedly serve to put pressure on India, they could also be prompted by its now even closer relationship with Pakistan.
Jayadeva Ranade is a former Additional Secretary in the Cabinet Secretariat, Government of India, and is President of the Centre for China Analysis and Strategy.